February 18, 2004
End of Deans
Those who know me also know that I have spent time these last months on the Howard Dean campaign. Those who want to hear my thoughts on his demise may click below.
For the rest of you, there's plenty more bloggy goodness on this here tech page.

Dr. Howard Dean is the first Presidential candidate I ever gave my heart to. Others appealed to me, sure. But with Dean I felt like I was in the game.
As usual I was premature.
As a political force, the Internet sits where TV was around 1956, not 1960. It's influential but not definitive. Dean and his campaign manager, Joe Trippi, thought it was definitive. So, for a time, did many Democrats, and most of the media.
What went wrong?
I should have seen the signs in the Georgia Meetups. The crowds grew, but they remained narrowly focused. The heart of the crowd was gay, liberal, professional. Politically, in this state, they could barely elect a councilman. But the Dean people thought they were The Bomb because, before the campaign scaled, they performed miracles.
The scale, the numbers, needed to win a Presidential contest, even a primary, are daunting. No matter how many volunteers you think you have, they won't reach the mass market. They won't influence anyone but their friends. And many don't have friends.
Thus, for now, broadcasters, marketers, and political pros are vital to winning campaigns. Dean didn't have any.
I said many times that Dr. Dean was the greatest thematic politician of our time, and I still believe that. I think Trippi was a great strategist. But as to tactics, both stunk.
Both apparently thought that mass politics would be played out in public. They didn't understand John Kerry's willingness to use the shiv, the political blackjack, and to organize in private, under their radar. They ignored Kerry as he hired hundreds of experienced organizers for the Iowa caucuses. They complained, to no effect, over his robo-calling voters to discourage turnout. They practically laughed as he did a series of events where he spoke quietly to small groups, oozing phony sincerity, his forehead filled with Botox. Spun into 20-second bursts on the evening news, it looked good at a time when undecideds were shopping.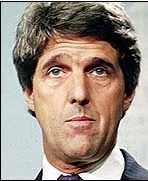 When Dean saw what was coming he panicked. He went to bigger rallies, sought more endorsements, he tried to overwhelm an electorate that demands an intimate approach. After a year using intimacy to his advantage, he was destroyed by his inability to use it when it counted.
Bad tactics.
Personally I will never forgive John Kerry for his arrogance, and the underhanded way in which he plays the game. I'd rather have Bush, despotism untainted by the base alloy of hypocrisy, than this Democratic Dole, this no-hoper from the Vietnam past, Dukakis' Lieutenant Governor, Teddy Kennedy's more liberal junior colleague. I strongly suspect the American people feel the same, and that Bush is feeling good about November.
Edwards I could vote for. He's a lawyer, an actor, a story, with far fewer skeletons in his closet Bush can twist. He's only slightly to the left of Dean, and perhaps he's capable of political growth. Or maybe that's wishful thinking.
But I strongly suspect neither man really has a chance. Edwards can't stand against Bush's $200 million. Kerry is a man who seems worse the more you get to know him.
The Scream
History will write that Dean's chances died in the Iowa snow. After investing millions in ads, in hats, and in rallies, where he played to cheering throngs (while his opponents played to small rooms that looked good on TV) he came in third, with 18%. His Iowa campaign was over-the-top, a Perfect Storm that forgot how, in the movie, the boat sank and all hands died.
Dean's entire strategy wound up being based on Iowa, and when Iowa didn't come through his bubble popped like an Internet stock.
The Scream was a phony "scandal," manufactured (and later admitted to) by CNN (owned by Kerry contributor Time Warner) and Fox (run by Republican operative Roger Ailes). Unlike the Muskie "crying scene" of 1972, which was engineered by Nixon's CREEP, the Bush people had full deniability. It was the last nail in the coffin, but the coffin was built by Kerry, not Bush.
There was only one week until New Hampshire, not enough time for the furor to die down, and for the networks to admit their error. The aura of inevitability had been burst.
Dean gave it his best shot. He campaigned in New Hampshire as a "reformer with results," a Governor who'd gotten things done. But New Hampshire is a suburb of Boston, and its long border with Vermont is nearly empty (aside from Dartmouth). Vermont is also New Hampshire's "little brother," a state New Hampshireites like looking down on for its sales tax and utter lack of urban life. Massachusetts, on the other hand, is their "big brother." Kerry had a natural advantage. He took it.
Last Chance
Urged on by Gore advisor Roy Neel, Dean bet everything on Wisconsin. He failed to capitalize on his grassroots support in New Mexico and Arizona, finishing third in both states. He didn't advertise in Washington, where a win could have offset his assumed failure in Michigan. He didn't compete at all in Tennessee or Virginia. Any possible momentum dribbled away.
Worse, when he got to Wisconsin he emphasized his liberal credentials, not his conservative ones. And Dean does have conservative credentials. Balanced budgets are a conservative value. His health care program was conservative. He always emphasized spending restraint in debate. He'd done business with the NRA.
And he never really got a debate. He hoped for a "two-man game" in Wisconsin, then stepped onto a Milwaukee stage with four other candidates – Sharpton and Kucinich were no-hopers playing for applause, and he didn't get enough time to make a new impression.
Where Do We Go From Here?
Dean did an awful lot in a short time. He changed the tone of the debate. He re-energized the Democratic grassroots. He created a new way to raise funds, raise awareness, and organize people. He would have been an awesome President.
What he did can and will work in state and local races all over the country, races that don't have to scale, races that will be run this year. It has already worked in Kentucky, where Ben Chandler won a House seat Democrats hadn't won in decades using a grassroots organization created during his failed run for Governor last year.
I think most candidates, however, still miss the plot. They don't understand that the In in Internet stands for intimacy. So they limit feedback. Most sites are billboards, most e-mails just requests for money to buy TV with. Volunteers are still not used properly.
Dean, and other Internet-savvy organizations like Moveon, have an opportunity to create a great new force in American politics, one dedicated to Dean's principles of frugality, equality, and international fraternity. This is where America's creative community – the core of its economy – lives politically. By withholding their support through disciplined organization, these people can force both parties to move back toward the center, away from the edges that are driving us mad and destroying their democracy,
That's where my own efforts will go. I still want my country back.
Oh, one more thing. The real winner in all this is Judy Dean. He's got it out of his system. She gets her husband back. Someone deserves to be happy in all this, and she's a deserving candidate.