June 15, 2004
Cellular Mainstream Move Accelerates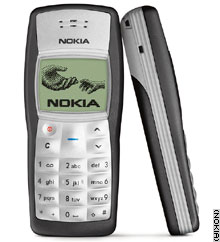 Nokia's new phone announcement was advertised as a "comeback," but it should really be seen as another marker on the road toward cellphones entering the computing mainstream. (The picture is from CNN, and we'll talk more about it later.)
Just consider the features in the phone Nokia was most anxious to discuss, its 6630:
Support for 3G networks, meaning it can deal with broadband;
A 1.2 Megapixel camera, which means its takes 40 times better pictures than digital cameras sold for hundreds of dollars a few years ago;
An integrated MP3 player, and
A total weight of 4.5 ounces (that's about 100 grams to most of the world).
We are far from settling on the features of tomorrow's handheld devices. Will they have organizers, will they have cameras, how much will they weigh, what PC features will they integrate?
In the near term, weight and phone usability will be paramount, if for no other reason than people don't want to become dependent on something they can lose easily (as we're dependent on our PCs and, to a lesser extent, our organizers).
To mitigate that problem, I think, cell phone operators will start selling services that maintain back-ups of your phone set-ups on the network, so if you lose your phone or change phones you won't lose valuable data.
That's just one small example of what will become, not only possible, but necessary in this new world, as cellular communications, PC operations, and data networking become one.
ABOUT THE PICTURE. Nokia likes Flash. I like Flash. But if you don't have regular .gifs or .jpgs of your products on your Web site (preferably with your press materials, preferably searchable by Google), then reporters who want to link to those photos have no choice but to go to third parties. And you don't want that.
That's word-up to all the other vendors out there.